Exclusive Benefits
---
• Significantly Lower Back Pressure Means the Potential for More Power
• Exhaust Gas Can More Easily Flow Across the Turbine Wheel
• Throaty Exhaust Note Under Wide Open Throttle
• CAD Engineered for Maximum Exhaust Flow with Unrivaled Fit and Finish
• 304 Stainless Steel 4.5" Design Reduces to a 3.5" Flex Section, Maximizing Volume and Flow
• Turbine Flange Offers a Smooth Transition from the Turbine Outlet
• 3.15" (80mm) Outlet Allows You to Run Either Stock or Aftermarket Catback Systems
• Complete Bolt on Means No Cutting – Bolts to the Factory Location
• O2 Sensors in OEM Locations. No Jumpers Needed
• Mandrel Bent Tubing for the Best Flow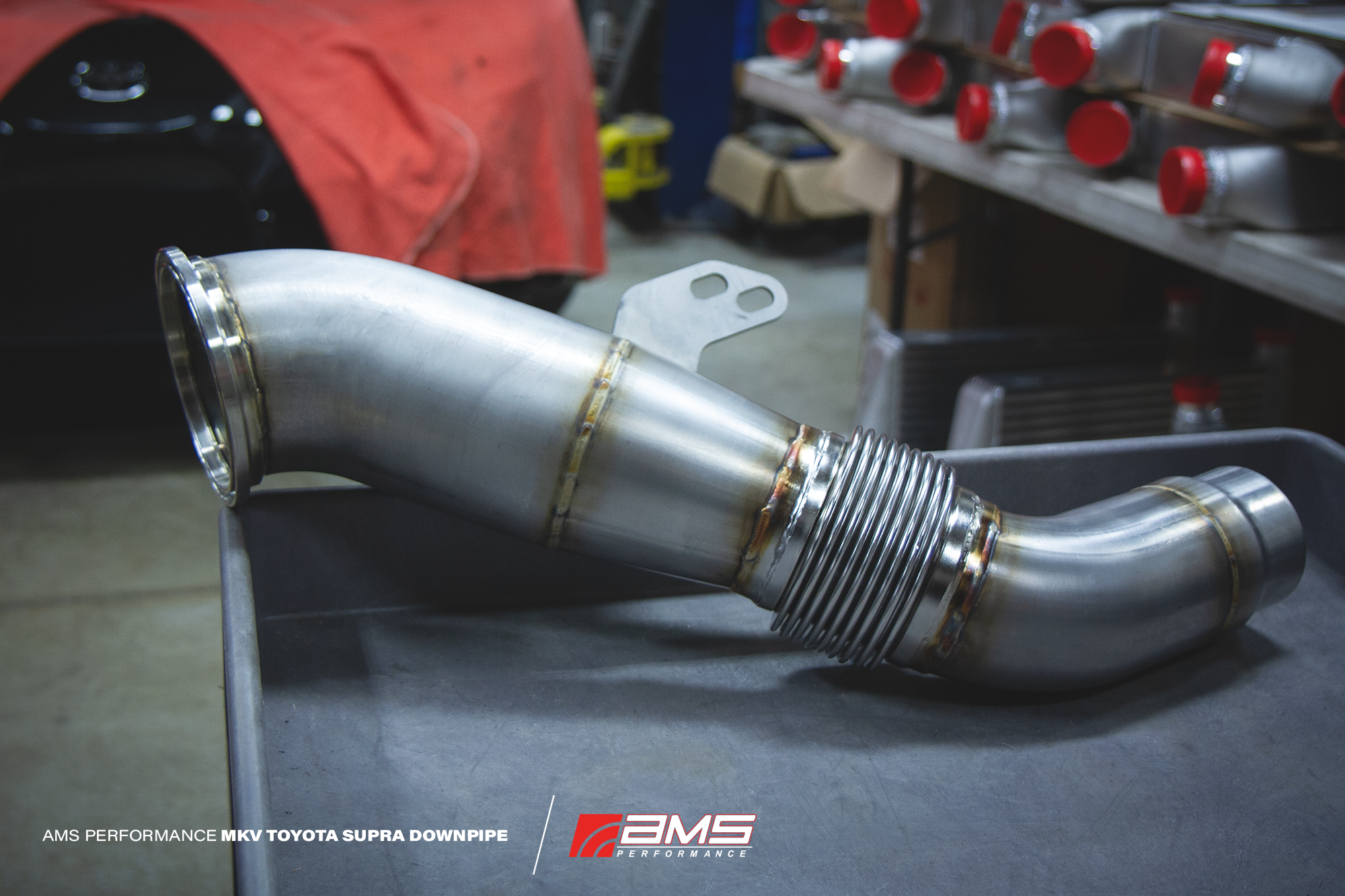 Introducing the A90 Toyota Supra Mandrel Bent Stainless Steel Full Downpipe
---
The 4.5″ full mandrel bent downpipe is the best performing and most durable on the market. Power comes in earlier and turbo spool-up is significantly improved. The long gradual transitions within the mandrel bent pipe allows exhaust gasses to maintain velocity without a buildup of back pressure inside of the system. We were able to design a superior product because of our superior engineering.
First in Class Durability and Performance From Proper Engineering
---
AMS is first and foremost an engineering company. The AMS Engineering team utilized Solidworks (3D software) to blueprint the inlet and outlets to optimize exhaust flow. The AMS MKV Supra Downpipe features heavy gauge stainless steel to retain as much heat in the down pipe as possible. Our Engineers 3D printed the downpipe to ensure an OEM level of fitment. Our threaded O2 sensor bungs allow the use of factory O2 sensor. Our downpipe perform better and are not prone to cracking like the alternatives offered by some of the competition. AMS' Engineering Team produced a product that doesn't just perform better, they made it sound better too.
Kit Includes
---
Fully Stainless Steel Downpipe
Adjustable Mounting Bracket
Applications
---
2020+ Toyota GR Supra (US only)
Payment & Security
Your payment information is processed securely. We do not store credit card details nor have access to your credit card information.