JDC DIY Denso Coil-On-Plug Ignition System Kit
NEW: FORGED CARBON FIBER PLATES ARE NOW AVAILABLE
We currently have new & refurbished coils in stock! 
This kit includes everything you need to make your own Mitsubishi Evolution 4-9 COP (coil on plug) setup. This kit includes the exact same pieces we use to make our JDC ignition systems. If you're the kind of person that likes to save money and make your own parts, this kit is for you!
Titanium hardware can be purchased here!
Applications:
Works with all Evo 4-9 USDM/JDM models (select the correct option according to the valve cover you have. Evo 9 with MIVEC is different than Evo 4-8.)
This ignition system is designed for use with the stock ECU and is compatible with AEM EMS V1 & V2, Haltech, MegaSquirt, and the SunAuto Hyperforce. This system will NOT work with CDI boxes or the HKS DLI

 and is not needed to meet your power goals up to 913whp+.

 
This kit is designed to work with Denso coils part # 90919-02240/90919-02265.

The coils are optional with this kit. You can provide your own coils if you wish. 
The kit includes:
Your choice of 6061 anodized satin black aluminum, carbon fiber, anodized titanium, or stainless steel "cut your own" mounting plate.
(2) Mitsubishi Evolution male connectors with pins and water seals
(4) Denso connectors with pins and water seals
Stainless steel mounting hardware and 15 amp fuse
High strength/heat tefzel wire (15ft.) 
High-temperature wire sheath (4.5ft.) 
Detailed instructions with pictures and wiring diagram. (

Click

here for detailed assembly instructions and video.)
JDC high heat stickers for the top of each coil
New, or Refurbished Denso Coils (Optional)
Features:
3-year warranty on new Denso coils, 2-year on refurbished Denso coils
Fits under OEM spark plug cover and most aftermarket covers
Tested to 913whp @ 0.020" plug gap
Military spec heat sleeve protector on wiring, rated to 428degF
Tefzel military spec wire, rated to 393degF
Plug and Play (assembly required) 
No retune needed after install
Gain HP/TQ (8-20 hp is the norm, mod dependent)
Greatly reduce or eliminate partial throttle bucking
Better idle quality
Quicker and easier start especially in colder weather with E85
Run more boost without spark blowout issues
Run more gap for better fuel burn and increased mpg
Plugs last longer due to less fouling
Plug changes take minutes less
No problem-prone CDI Boxes
Noncorrosive stainless steel hardware
Note:
This kit is very simple to make for yourself if you have basic wiring or automotive knowledge and can save you a lot of money over buying a fully assembled kit. This kit uses high-quality components! If you would rather purchase a fully assembled kit or a pre-made wire harness, they are available here. You can also purchase individual pieces if you don't need an entire kit.
Daunting BEFORE reading the instructions
Jon made the instructions very easy to follow (and there's a video on youtube if you're hard of reading!) Just takes some patience and follow along. Someone's always available to help if you need it. Great customer service from JD Customs.
Evo purrs and there's no drops in rev. Power feels more direct now. (stock internals and stock ECU).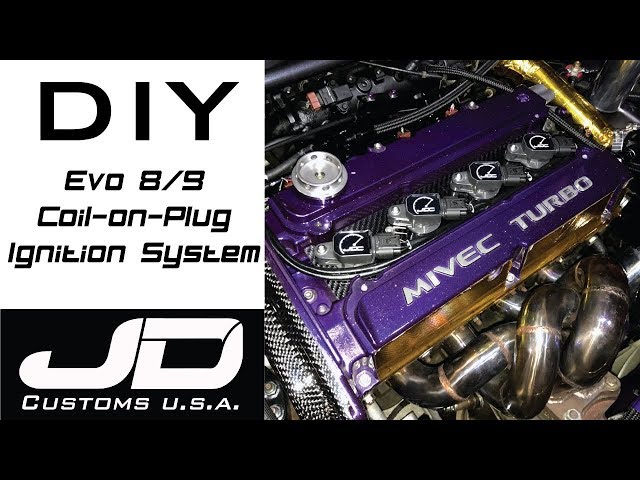 Amazing customer service
had issues with putting the DIY kit together every time i'd ask a question regarding the kit and putting everything together i got a reply fast which helped the process customer service at its finest
Thanks for the review! I'm glad out customer service exceeded your expectations! Thanks for your business!
Terrific installation instructions and customer support!
As the title says, the instructions were very clear and first timer friendly. Emails were responded to amazingly fast (under one hour)
Thanks for the review! I'm glad to hear you were able to assemble your kit with no issues. Thanks for your business!
World Class Customer Service
Packaged very well and shipped quickly came unexpected! Watched live on Instagram to build it the same time with all recommened tools. I crimped 3 of he wrong clips and had to stop the proccess, however this was no problem, contacted John, was able to order extra pieces immidiantly to ship on the way! He was completely understanding. Instructions are very easy to fallow regardless. Such a simple great MOD, will be back for more goodies!!
Thanks so much for the awesome review Aaron! I'm glad I was able to help you out on the wire building process and get your DIY COP system built! I look forward to doing more business with you soon. :)
COP DIY!
Best MOD ever! If you have any experience doing electrical splicing, I recommend this,easy to do!
Thanks Roberto! I'm glad you're happy with your purchase. I look forward to doing more business with you soon.
Payment & Security
Your payment information is processed securely. We do not store credit card details nor have access to your credit card information.